Regional Restaurant Karolówka in Zakopane
Restaurant Karolowka in Zakopane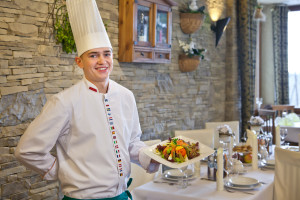 Our restaurant offers a rich and varied menu, our chef specializes in regional dishes and light Mediterranean cuisine. In our restaurant we introduced a new technology extremely healthy food preparation Sous vide – that is cooking in a vacuum. Prepared in this way the meat retains its unique taste and delicacy while being easy to digest. Our customers can choose from a rich menu containing a variety of meats, fish and vegetarian dishes.
Buffet breakfast is served between 8:00 and 10:00 a.m. We offer buffet breakfast with a great selection of Highland specialties and salads. During breakfast coffee is available from the espresso machine. A la carte lunches and dinners are prepared between 12:00 a.m and 10:00 p.m. With the advent of warm and sunny days, the meals can also be enjoyed on the terrace, where our guests can take advantage of the charm of the hotel garden and the proximity of the Tatra National Park. Our guests can also enjoy a barbecue in the garden. On request we organize parties with regional dishes and music played by a folk band.
Our restaurant observes HACCP procedures to ensure the highest quality and safety of the served food.