Zakopane at the food of the Tatra Mountains
Zakopane captivates visitors with its lively tradition of highland, wooden architecture, unique nature of the Tatra Mountains.
WINTER OFFERS:
For our guests we have prepared a wide range of day trips organized on each day of the week.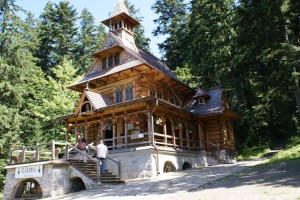 Zakopane and surroundings:
rafting on the Dunajec River
Kościeliska Valley
Slovakia:
Orava Castle, Demianovska Valley and Cave
Bielska Cave, Szczyrbskie Pleso, Stary Smokowiec, Cold Water Waterfall
Tatrzanska Łomica, cable car ride to Łomnicki peak (2634m above sea level), Łomnickie Siedlo (2196 meters above sea level)
Hungary:
Austria:
Czech Republic:
Our guests are encouraged to enjoy the fun of cycling in the Tatra area (the hotel offers bike rent services), we suggests the following cycling paths:
Pod Reglami cycling path (approximately 10 km)
the road in the Chochołowska Valley (7 km)
the road from Kuźnice to Kalatówki Forest Clearing (1.5 km)
the road to Palenica Forest Clearing, on Łysa Polana (12 km)
Zakopane at any time of the year …
Zakopane, also known as the winter capital of Poland, is a town with 30 000 inhabitants, located at the foot of the Tatra Mountains. It attracts visitors with its lively highland tradition and folklore, as well as art and folk culture and its unique architecture. The wealth of spectacular natural views and lovely locations, favorable climate and clean air attracts visitors longing for peace and relaxation. Zakopane is also an ideal starting point for hiking, cycling, and, in the winter, for skiing and other winter sports.
Walking tours of Zakopane- Tatra mountains hiking itineraries of varying difficulty, information may be obtained from reception
Attractions of Zakopane and the surrounding area:
ski jumping centre – Wielka Krokiew
Krupówki – the famous promenade in the centre of Zakopane
Kościeliska Street with the unique architecture
Aqua Park in Zakopane
ski lifts (Nosal, Małe Ciche, Białka)
cable car to Kasprowy
Tytus Chałubiński Museum of the Tatra Mountains
Władysław Hasior Modern Art Gallery
"Koliba Villa" Zakopane Style Museum
Villa Atma – Karol Szymanowski Museum
cemetery at Pęksowy Brzyzek, the historic Church of Our Lady of Czestochowa
historic Chapel in Jaszczurówka
the Shrine of Our Lady of Fatima in Krzeptówki
Holy Family Church in Krupówki Street
the rail line to the top of Gubalówka Hill
Poland's largest rope adventure park (in Gubalowka)
We also invite our guests to take advantage of the wide range of trips to Polish and Slovak tourist destinations. You can go on Dunajec River rafting excursion, visit the castle in Nidzica and Czorsztyńskie Lake, explore the caves (Demianowska, Bielańska, Wolnosci) in Slovakia, take a walking trip to Sczyrbskie Jezioro, take a tour of the Orava Castle, Tatrzanska Lomnica, go to Poprad Aqua Park and Oravice Water Park, visit Krakow and Wieliczka, as well as Auschwitz-Birkenau.